Skip Global navigation and goto content
09.03.2021 COVID-19 Update
September 03, 2021
FRANKLIN and GULF COVID – 19 UPDATE – 09/03/2021 
For Franklin County updates straight to your phone: text FranklinCV19 to 888777.
For Gulf County updates straight to your phone text GULFCOVID to 888777.
VACCINES:
As you all are aware, COVID-19 vaccines are still available through medical providers, the health department and local pharmacies at no cost. We are not administering booster vaccines to the general public at this time. Right now, an additional dose of Moderna or Pfizer is ONLY recommended for people with compromised immune systems. This is because people with compromised immune systems may not build the same level of immunity to the 2-dose vaccine series. These shots are available to people who received a two-dose vaccine from Pfizer or Moderna, and the dose is provided 28 days after your 2nd dose.  A 3rd dose has not yet been approved for Johnson & Johnson vaccine. 
MORE ACCESS TO TESTING IS COMING:
New COVID-19 Testing Company arriving soon in Franklin and Gulf! Nomi Health will be providing both rapid and PCR testing to folks with or without symptoms at no cost. (Insurance may be billed if available, but NO direct cost to any client.) Nomi Health is planning to set up testing operations in Apalachicola, Carrabelle, Port St. Joe and Wewahitchka. Check out the flyers attached in this update! The registration links will go live next Wednesday, September 8th to begin scheduling. There is also a hotline number you can call.
3. TREATMENT: People should talk to their medical provider about COVID-19 treatments appropriate for them.
About Monoclonal Antibody Therapy. If you are more likely to get very sick from COVID-19, your healthcare provider might recommend that you receive monoclonal antibody therapy.
To find a location, go to  https://floridahealthcovid19.gov/monoclonal-antibody-therapy/
Monoclonal antibodies are a treatment authorized by the U.S. Food and Drug Administration (FDA) under an Emergency Use Authorization (EUA) for use in adult and pediatric patients (12 and older) who have either been diagnosed or exposed to someone with COVID-19 and are at high risk for progression to severe illness, hospitalization, or death from COVID-19.
In clinical trials, this treatment resulted in a 70% reduction in risk for hospitalization and death, and resulted in an 82% reduction in risk for contracting COVID-19 for people who were exposed to the virus by other members of their household. More information can be found in the Frequently Asked Questions (FAQs) Section of this document.
4. If you are positive for COVID-19, you are infectious to others. Stay home unless you need medical care.
You can be with others after:
At least 10 days since symptoms first appeared and
At least 24 hours with no fever without fever-reducing medication and
Other symptoms of COVID-19 are improving
What is going on with cases in our counties?
Franklin:
| | | | |
| --- | --- | --- | --- |
| Week | Positive | Total tested | Percent positive |
| 8/6-8/12 | 131 | 346 | 37.86% |
| 8/13-8/19 | 94 | 271 | 34.69% |
| 8/20-8/26 | 127 | 359 | 35.38% |
| 8/27-9/2 | 117 | 395 | 29.62% |
 Projected Forecasts (CDC):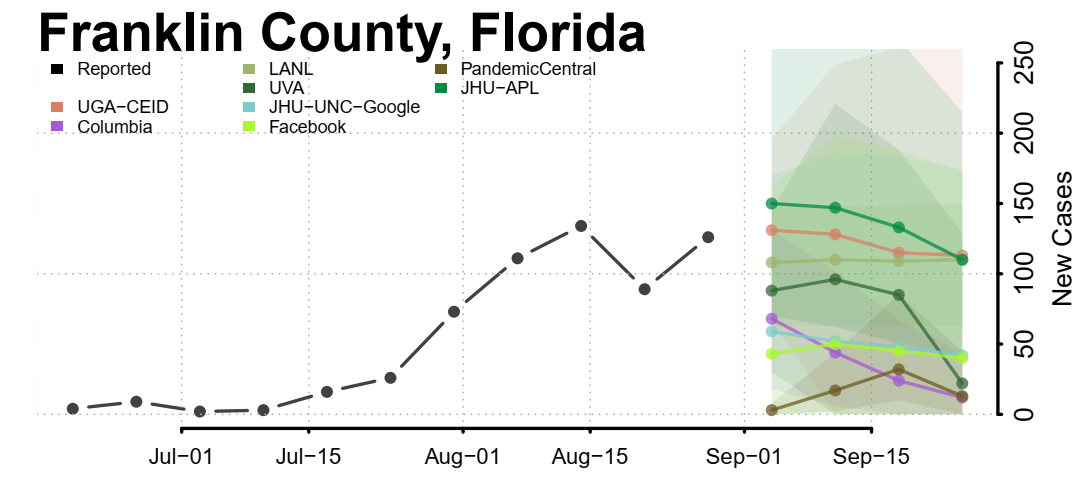 Gulf:
| | | | |
| --- | --- | --- | --- |
| Week | Positive | Total tested | Percent positive |
| 8/6-8/12 | 93 | 425 | 21.88% |
| 8/13-8/19 | 74 | 316 | 23.42% |
| 8/20-8/26 | 100 | 444 | 22.52% |
| 8/27-9/2 | 106 | 471 | 22.51% |
 Projected Forecasts (CDC):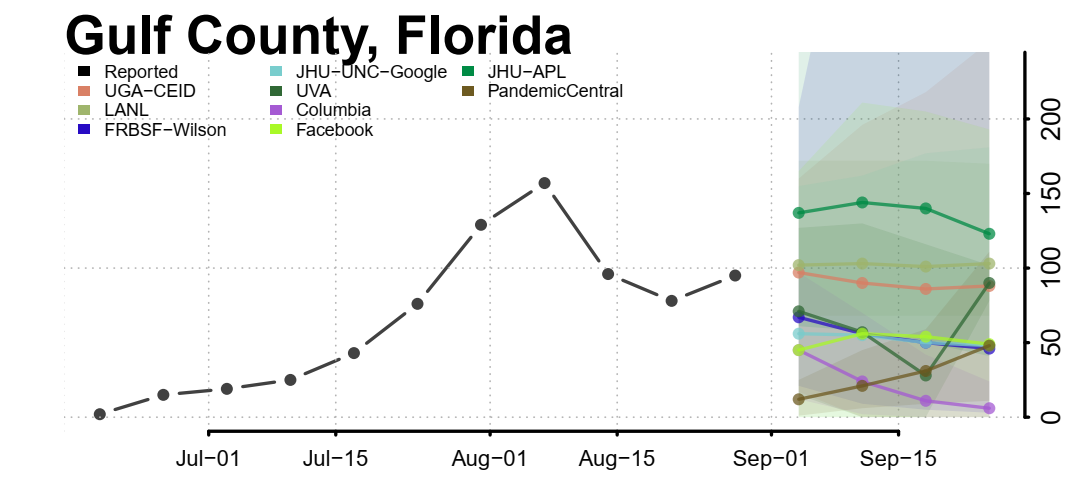 *How to understand percent positivity for new resident cases: residents who test positive divided by all residents tested during a time period.
What about vaccination efforts?
Franklin: 50% (Franklin population babies and up: 12,295 | Age 12 & older with vaccine: 5,577)
Gulf: 50% (Gulf population babies and up: 14,829| Age 12 & older with vaccine: 6,507)
State: 69%